Happy St. Patrick's Day
GEORGE
You probably didn't know that we Crew members are part Irish, but we are! Yes, we can claim Irish ancestry.
During her genealogy research Mom found out her great grandmother's family immigrated to the U.S. from Ireland in the mid 1800's. So today I can rightfully call myself Georgie McPie.
TIPPER
And I'm Tipper FitzDoodle.
MAX
Just call me Maxie O'Smartkitty
MISTY
Me...I'm Misty MacEverpurr.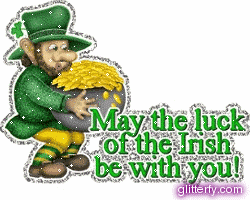 We found this fun
quiz
. Try your Irish luck and see how much you know about Ireland and St. Patrick's Day.