Don't Be on the Naughty List
GEORGE
I've been pretty good this year. In fact, I'm proud to say I'm the best cat in this house, so I wasn't going to talk about Santa coming soon, and being naughty or nice, until Mom showed me this. Since I know for a fact that, although I've been good, there have been a few "
incidents
" with the other cats around here, so I thought maybe I should speak on this subject 'specially for the young ones who have no experience with Santa.
We don't live with a dog, thank Bast, but we do have the white dust mop, Shasta, and the grey menace, Reyna, who visit now and then. I think it's important I meet with the other cats here to figure out a plan to blame all the "
incidents
" on them. And, if we do this right, we can work our Girl and our Boy into this plan somehow since they always seem to be making messes.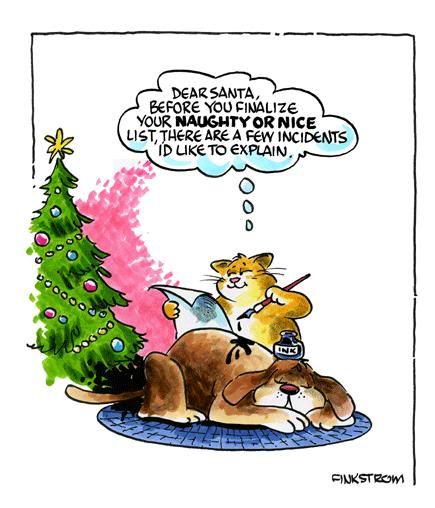 If you don't have a dog or young humans to blame, then you'd better start planning your strategy on how to handle the "
incidents
", and I KNOW you all have some! I suggest you don't waste any time, though, since Santa will be coming very soon and you don't want to be on his Naughty List!!